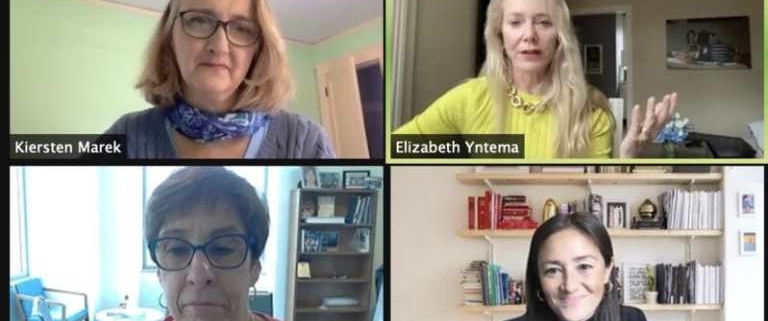 Philanthropy Women: Feminist Giving IRL: Hear From the Top Tier Winners (Liveblog)
26 March 2021
By Maggie May
On Thursday, March 25th, the Philanthropy Women team welcomed attendees and honorees alike to the first Feminist Giving IRL Top Tier Awards Ceremony. Celebrating the exceptional leadership of the interviewees from the past year, this year's FGIRL Top Tier winners are Elizabeth Yntema (Dance Data Project), Dr. Tessie San Martin (Plan International USA), and Sara Monteabaro (MIT Solve).
The FGIRL series started two years ago, inspired by Gloria Steinem's idea that "people should be linked, not ranked."
"I wanted to be able to show a huge collection of diverse women," said Editor-in-Chief Kiersten Marek. "All of the women we're celebrating today, I see as the solution to breaking the silence and sharing that truth."
Elizabeth Yntema on Gender Equity in Dance
Yntema describes a "glass cliff syndrome" in the dance world, where women are "pushed into" leadership because no one else is willing to step up. Her "Aha!" moment comes from sitting in a ballet theater and realizing 70% of the audience was female, as well as 70% of the donors to the program–however, female choreographers were missing from the industry.
"I'm Scottish and Dutch and tend to get really mad when people say, 'Go over there, sit down, write a check, look pretty, and don't leave your lane,'" she said. Yntema set out to build out a database of female donors, choreographers, and leaders within the dance industry–what would eventually become the Dance Data Project.
When asked "Why ballet?" Yntema identifies two main reasons this is her target area: Ballet is "where the money is in dance," and the lack of female representation is something Yntema feels like she can fix.
She stressed that she wants to make an impact in climate change, gender violence, and any number of social justice issues, but knows that she can enact real change in this industry.
"Once people realize that this art form, which is occupied by women at every level, is populated with unfunded and underfunded women, there will be real change," Yntema said. This turned out to be an overestimation, and her efforts have now switched to advocacy and education programs to bolster women in the dance industry.
Read the full recap here and watch the Top Tier Awards panel here.
https://ddp-wordpress.storage.googleapis.com/wp-content/uploads/2021/03/13135427/webinarfgirl.jpeg
443
768
dancedata
https://www.dancedataproject.com/wp-content/uploads/2019/05/DDP_logo_Primary.png
dancedata
2021-03-26 13:21:37
2021-03-26 13:24:34
Philanthropy Women: Feminist Giving IRL: Hear From the Top Tier Winners (Liveblog)