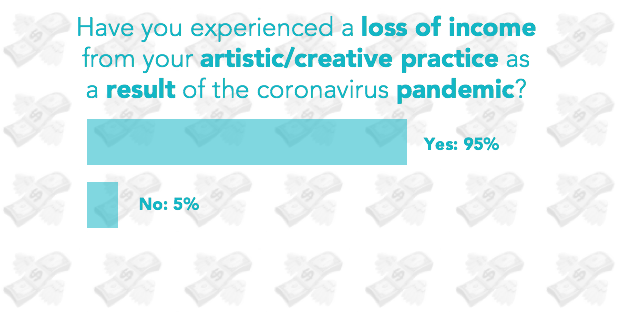 Hyperallergic: 95% of US Artists Have Lost Income Due to Pandemic, Survey Says
24 April 2020
Artist Relief, the sweeping emergency aid initiative recently launched by seven arts funders, has completed its first funding cycle; with it, research partner Americans for the Arts has published the results of its accompanying COVID-19 Impact Survey, which measures the effect of the coronavirus pandemic on individual artists.
Since applications opened two weeks ago, more than 50,000 artists applied for 200 available unrestricted grants of $5,000 each. Of those applicants, over 11,000 also filled out Americans for the Arts's survey, among them practicing, teaching, and hobby artists; creative workers; and culture bearers.
The findings paint a bleak picture of the cultural sector's financial health: nearly two thirds of artists in the US are fully unemployed, and the majority see no clear path to recovery.
Read the full article on Hyperallergic.
https://ddp-wordpress.storage.googleapis.com/wp-content/uploads/2020/04/13140237/financialliteracyday5.png
616
618
dancedata
https://www.dancedataproject.com/wp-content/uploads/2019/05/DDP_logo_Primary.png
dancedata
2020-04-27 10:06:59
2020-04-27 10:07:01
Hyperallergic: 95% of US Artists Have Lost Income Due to Pandemic, Survey Says