DDP Talks To…Morgann Runacre-Temple
Morgann Runacre-Temple is a London-based freelance choreographer. She has produced work for numerous companies including Northern Ballet, Stuttgart Ballet, Scottish Ballet, English National Ballet, Ballet Central, The Print Room, Images of Dance, Northern Ballet Choreographic Lab 2016, Royal Ballet Participation, BBC Young Dancer of the Year 2017 and Wilton's Music Hall. She was the choreographer in residence at Ballet Ireland from 2009- 2015. With Jessica Wright, Runacre-Temple has directed numerous dance films, shown for RANDOM ACTS Channel 4, English National Ballet, among others. Her work has won Best Film 2018 at NRDFF and Best Director at Portland Dance Film Festival. Other notable accolades include the Dance East Rural Retreat Award for Future Dance Leaders (16/17). With Jessica Wright, she co-directed her first feature film 'The Secret Theatre' for Scottish Ballet in 2020.
The DDP team has long admired Morgann's successes from across the Atlantic. We were thrilled to have an opportunity to glean some insight into the career of another woman choreographer for 2021's first DDP Talks To… Join us in learning about Morgann's approach to pitching her work, her creative process, life in lockdown, and how exactly she got started in dance making.
1.  How did you get into dance making? Did a particular person or mentor bring you into it, or was it a self-motivated decision/exploration?
I always made up dances, even as a kid in my living room. My mum entered me for a choreography competition when I was about 8. My piece was me, just running in circles to the 'dance of the knights' from Prokofiev's Romeo & Juliet for 5 mins wearing a hat. I didn't win.
2.  Tell us about the process by which you create work. Do you start with workshopping, a piece of music, art, a dancer, yourself, a plan or layout?
It very much depends on the piece. For example, for a recent film Jess [Jessica Wright] and I made (An Evening with Taglioni), we had the concept in our heads for years, did lots of research on the story, then [created] the movement, and then finally made the film. So, that process was very much motivated by a story. Other pieces, for stage, for example, I'll work with a piece of music, or an image, and devise movement then see where that goes.
3.  Tell us about your passion for dance film?
I've always been interested in film – as long as I have been interested in dance. But Jess and I met at ballet school, and when we graduated started to play around with movement on film very much as something to keep us occupied as unemployed dancers starting out. Our early films were made on cheap handycams and were really sort of little comedic sketches to make eachother laugh and keep us going.
4.  Can you share a little more about An Evening With Taglioni—which, by the way, for our readers, will star Alessandra Ferri and Antonia Franceschi—and tell us about some other projects that are upcoming for you?
An Evening With Taglioni is a film we have wanted to make for years. It's taken a long time to come to fruition, as we raised the money through Arts Council Grants, Kickstarters, and generous individual supporters as well our own money made through teaching workshops, etc., so it's been a labour of love.
It's an important piece for us because it's a 15-minute, fictional film based on a true story with dialogue that turns into a dance horror film. It's quite dark and quite funny, and it has an absolutely stellar cast (including Alessandra Ferri and Antonia Franceschi) who were just so generous to work with and took our ideas and ran with them. The plan is for it to go to film festivals this year before being broadcast then eventually released online – but we will let you know when it's available to watch!
5.  What was the opportunity or commission(s) that really jump started your 'success' as a choreographer?
In 2005, I applied to make a short work for Ballet Ireland's choreographic platform. It was a 15-minute piece on five dancers over the summer. The directors of the company really liked it – I had very limited experience back then, as I had only been out of school a year, but they invited me back again and again, eventually commissioning me to make over five full-length works for the touring company. I was very fortunate to have a company invest in me in that way and developed my craft over nearly 10 years working with Ballet Ireland. I never danced in a big ballet company, so finding opportunities to create work on ballet dancers isn't easy.
6. We've heard many times that introducing this choreographic exploration early in a dancer's career could mitigate the issue of gender inequity in ballet. So, if you were to suggest or design a curriculum around the art of choreography, what would you include and when would you initiate the training in a dancer's career/training?
There are many ways into choreography, but providing dancers who are training with choreographic tools alongside their technical training is important. The tools to improvise and devise movement, alongside studying existing works in a critical way— breaking down structure, music, and so on is important. Learning about the history of dance too. Obviously, opportunities to choreograph on other dancers should be provided, but if improvisation and analysis is part of the curriculum from a young age, it would encourage everyone to feel they have access.
I'd say get it going early. As early as technique training. So, 11.
7. What do you consider to be the largest obstacle that stands in a choreographer's way? Have you felt that the stakes are higher in any way for women dance makers in your career?
Earning a crust through choreography alone is tough. So, you need to have other ways of working— teaching, mentoring, movement direction— and all of those things take effort to break into as well. Diversifying your practice. It's pretty hard to make money from commissions alone. I was lucky because my parents live in London, so I could stay at home whilst I was starting out and saved on rent. I've been privileged in that way. Things are pretty different now, [compared] to when I started making work 10 years ago, for women, which is a relief. The stakes are higher for women— people are keen to put you in a box, and see your work through the lens of your gender.
8. How has your approach to the art form, your creative process, your drive, etc. changed as a result of the lockdown and the pandemic?
I had a baby in May 2020, so I've been in my own special lockdown. That being said, Jessica Wright and I were fortunate to be asked to direct our first feature length film for Scottish Ballet The Secret Theatre, which we shot and released last year between August and November. If it hadn't been for Covid, we certainly wouldn't have been directing a feature, but it was a huge opportunity for us and an epic experience. I haven't gone through any other conventional choreographic processes yet—but I have some plans that will start on Zoom, so that will be very different. The whole world has changed so immensely, it feels too early to know how my process or work will change, but I suspect it will.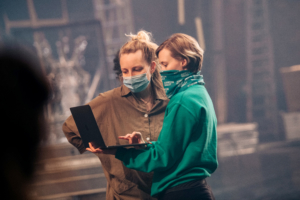 9. Let's say I'm an artistic director—what's your pitch? What do you bring to the table as a dance maker that you feel really sets your work and process apart?
I have quite a multidisciplinary approach to making work. Often I'll be thinking, "Why is this piece good for dance and not a theatre spoken word piece or a film?" And if it is—I'll try to make that. My process isn't fixed and rolled out. I respond to the company, the dancers, the moment in time, so in that way no two processes are the same.
10. Now, let's say I want to give you a major commission, your dream opportunity, what kind of work would you produce (full-length, mixed bill, en pointe , cutting-edge, classic, site-specific, dance film…)? In other words, tell us about your dream project/commission.
A full-length. Having the space to make something that has its own life is always exciting and more ambitious. Jess and I want to make a feature film— a musical but maybe without the songs. We are in the process of hatching that plan. And on stage? Bringing together live movement and pre-recorded film, live relay, spoken word, foley, new score, sound design— a whole sensory exploration. I don't want the dance world to be left behind by theatre or film.
Visit Morgann's website here. Read her interview with Dance Tabs here and reviews of her work 'The Secret Theatre' with Jess and Morgs films for Scottish Ballet in The Guardian and The National.
Photo Credit (for images from top to bottom of post): Morgann Runacre-Temple works with a dancer. Photo by Laurent Liotardo. | Morgann Runacre-Temple on set for Tremble, part of Scottish Ballet's Digital Season. Photo by Rimbaud Patron. | (L to R) Directors for Screen Morgann Runacre-Temple and Jessica Wright on set of The Secret Theatre. Photo by Mihaela Bodlovic.