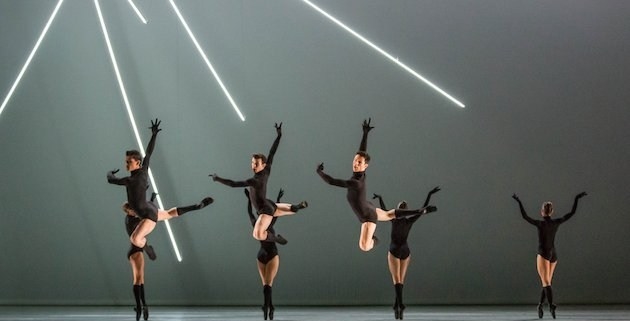 Courtesy of Cheryl Mann via Daily Nexus
Daily Nexus Article, "The Joffrey Presents Not Your Grandma's Ballet" Covers #MeToo Discussion
By Hannah Jackson
12 March 2019
For UCSB's Daily Nexus, Hannah Jackson reviewed the Joffrey Ballet's Not Your Grandma's Ballet performance. Hannah Jackson applauded the company's discussion of #MeToo in ballet and discussed portrayals of women in Alexander Eckman's "show-stopping" Joy. She wrote:
Following the performance, artistic director of the Joffrey Ashley Wheater spoke onstage with Professor Christopher Pilafian from the Department of Theater and Dance. In spite of the numerous scandals that have recently struck the dance world in conjunction with the #MeToo movement, Wheater believes that "dance is having a moment right now." It was evident that while ballet still very much tailored to an older, wealthier audience, the Joffrey is leading the charge toward a more progressive and accepting future for the art form: starting with bodies.

"Robert Joffrey said, 'A great dancer comes in every shape and size,' and I believe that is true if you look at our company today," Wheater said. And he's right: throughout the performance I was pleasantly surprised by the (relative) diversity; the presence of breasts and strong thighs more common than that of alarming skinniness.

While acceptance of the human form as it comes seems like a small step, seeing attainable body standards on the stage of one of the world's most renowned companies is no small feat. This permissiveness, in conjunction with the Joffrey's confidence to embrace the funk and the spunk of experimental dance will lead them into the 21st century — now it's time for a young audience to follow in suit.   
Read the full article here.
https://ddp-wordpress.storage.googleapis.com/wp-content/uploads/2019/03/13142036/CalP_Joffrey_Joy_header_3.jpg
354
630
dancedata
https://www.dancedataproject.com/wp-content/uploads/2019/05/DDP_logo_Primary.png
dancedata
2019-03-17 16:03:48
2019-04-02 10:03:16
Daily Nexus Article, "The Joffrey Presents Not Your Grandma's Ballet" Covers #MeToo Discussion