Cincinnati Ballet Brings Female Work to the Stage in 2019-2020 Season Opener + SIX WORLD PREMIERES
Cincinnati Ballet is opening its season with innovative premieres in their Kaplan New Works Series. Year-after-year the evening program brings new works to the stage before excited audiences. Including women in this tradition is a trend for artistic director Victoria Morgan; this year her Kaplan roster is no exception.
The press release for the program detailed the lineup: "The Kaplan New Works Series brings raw, powerful contemporary ballet to the Aronoff Center for the Arts for 11 performances September 12-22. This year's New Works includes six world premieres.Celebrate the start of the Season with a mix of innovative dance interpreted by some of today's most talented choreographers, including a trio of female powerhouses. Heather Britt, Cincinnati native and choreographer-extraordinaire, celebrates her 10th anniversary choreographing for Cincinnati Ballet with her emotional piece, When I Still Needed You. She's joined by internationally renowned choreographer Andrea Schermoly with Swivet, and Sarah Van Patten, longtime San Francisco Ballet principal dancer, presents her new work, Skylight."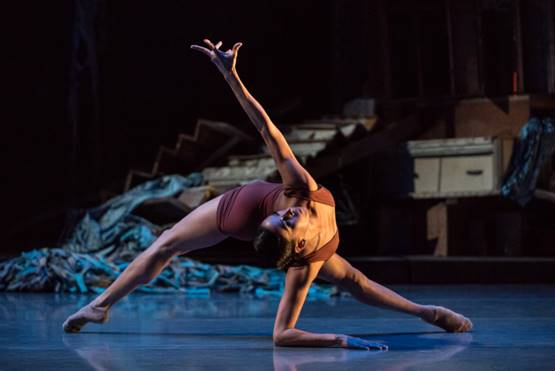 Cincinnati Ballet's 2018 Kaplan performance included new works from Jennifer Archibald, Taylor Carrasco, Mia Michaels, David Morse, and Myles Thatcher. Thanks to this and other performances including female choreographers, the company was on DDP's top 10 list for the 2018-2019 season (read the July report here). The announced works for its upcoming season's programming placed Cincinnati Ballet again on this list for the 2019-2020 season. A stunning 56% of the company's works announced so far for this season will be choreographed by women, and Cincinnati Ballet is one of the only five companies leading the way with the most inclusive programming in both seasons.
The DDP team looks forward to coverage of this innovative programming in the press and celebrates Morgan and Cincinnati Ballet for another season of empowering (and commissioning) women.
About Cincinnati Ballet
Since 1963, Cincinnati Ballet has been the cornerstone professional ballet company of the region, presenting a bold and adventurous array of classical, full-length ballets and contemporary works. Under the artistic direction of Victoria Morgan, Cincinnati Ballet has become a creative force within the larger dance community, commissioning world premiere works and exploring unique collaborations. With a mission to inspire hope and joy in our community and beyond through the power and passion of dance, Cincinnati Ballet reaches beyond the stage in programs that allow every person in the region to be part of the continued evolution of dance through exhilarating performances, extensive education outreach programs and top-level professional ballet training at Cincinnati Ballet Otto M. Budig Academy.
Purchase tickets and learn more here.
https://ddp-wordpress.storage.googleapis.com/wp-content/uploads/2019/09/13141244/Photo-2-Choreographer-Andrea-Schermoly.png
936
1583
Isabelle Vail
https://www.dancedataproject.com/wp-content/uploads/2019/05/DDP_logo_Primary.png
Isabelle Vail
2019-09-05 10:20:36
2019-09-05 10:24:54
Cincinnati Ballet Brings Female Work to the Stage in 2019-2020 Season Opener + SIX WORLD PREMIERES