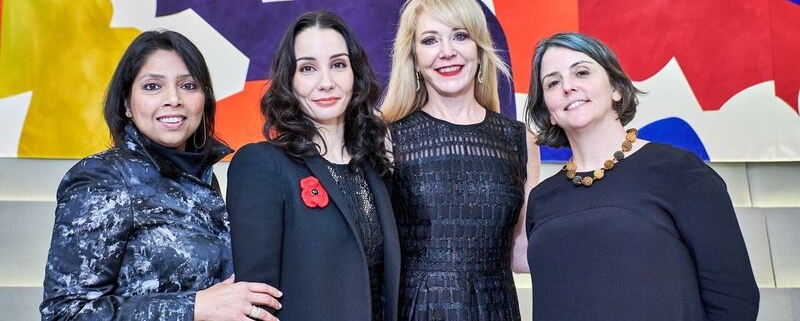 Chicago Tribune: Best in Chicago dance in 2019: Stunning performances in a year of transition
10 December 2019
For dance, 2019 was a year of transition. New leaders were installed at Chicago Dancers United, Links Hall and the Auditorium Theatre. The Joffrey Ballet kicked off its final season at the Auditorium, its performance home for decades, and is preparing to move to the Lyric Opera House next fall. Since last year's Top-10, three pioneers of Chicago dance have died: founding Hubbard Street Dance Chicago dancer Claire Bataille, founding artistic director of Ensemble Espanol Spanish Dance Theater Dame Libby Komaiko and Christine DuBoulay Ellis, who ran the prestigious Ellis DuBoulay School of Ballet for more than 40 years with her husband, Richard Ellis. In some ways, it's felt like a year of great loss, but transitions make way for new growth, new voices and new ideas.
And even amidst all these organizational changes, the year produced some extraordinary dance. Looking down this list, one can't help but notice a banner year for the Harris Theater, which in addition to the shows listed chronologically below, also gave us the Chicago premiere of one of Australia's finest dance companies, Bangarra Dance Theatre, and "Echo Mine," Robyn Mineko Williams' gorgeous eulogy for Claire Bataille. With CEO Patricia Barretto at the helm, the Harris Theater has truly found its footing as a world-class presenter of music and dance from around the world, and a champion for many of Chicago's home team companies.
Ragamala Dance at the Harris Theater: Inspired, in part, by the ancient Indian board game Paramapadam, the dancers in "Written in Water" carved captivating patterns in bharatanatyam steps, mirrored by rich projections of a "game board" onto the stage. At the crux of the game: a moral dilemma in which players must choose between good and evil. But you needn't have gotten any of that to be amazed by this work's exquisite tableaux and glorious score, an ingenious, hybridized fusion of Sufi and Carnatic music, played live.
Read the full article in The Chicago Tribune.

DDP Founder & President Liza Yntema is an underwriter of "Written in Water."
https://ddp-wordpress.storage.googleapis.com/wp-content/uploads/2019/02/13142534/IMG_1020.jpg
504
800
dancedata
https://www.dancedataproject.com/wp-content/uploads/2019/05/DDP_logo_Primary.png
dancedata
2019-12-12 13:47:12
2019-12-12 13:47:14
Chicago Tribune: Best in Chicago dance in 2019: Stunning performances in a year of transition